7 Questions to ask before selecting an employer brand agency
14/04/2022
Posted by:

Ali Ayaz

Categories:

Employer Branding, Recruitment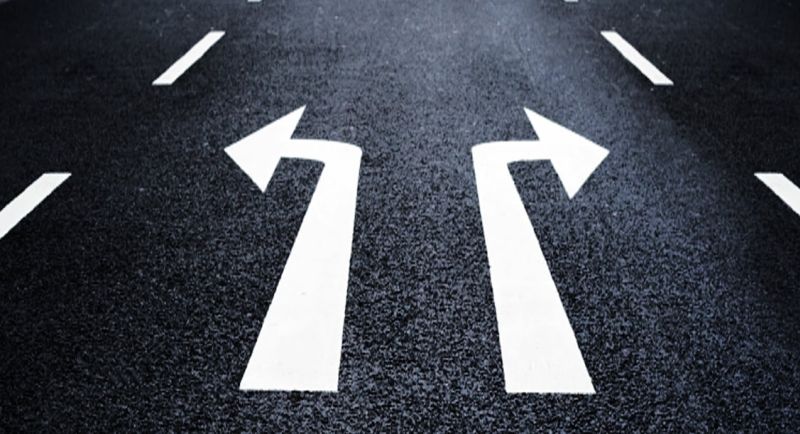 THE RIGHT EMPLOYER BRAND AGENCY: 7 QUESTIONS TO HELP YOU CHOOSE
An employer brand agency is a business partner that helps companies develop and communicate their employer brand to current and potential employees. This type of agency specializes in creating and executing strategies and tactics that promote a company's culture, values, and employee value proposition (EVP). They use a variety of mediums, such as social media, advertising, and events, to showcase a company's unique selling points to attract and retain top talent. An employer brand agency understands the holistic process of employer brand management and brand communications and works with companies to achieve their goals and KPIs related to employee retention, recruitment, and engagement.
Choosing the right agency to bring your employer brand communication goals to fruition may seem straightforward. However, it's a critical decision that can make or break your branding project. Turning your company into a favorite employer is a living, breathing process that requires constant evolution. To find a business partner best for your company's employer goals and daily professional tasks, you should choose an agency that understands the holistic process. And what do we mean by that? Read on to find out!
1- REASONS YOU NEED AN AGENCY
There are many reasons you might need an employer brand agency. Employee Value Proposition is the axis of all employer brand communications, but not all communications revolve around an EVP. Most companies might not have the budget for coming up with any kind of strategy, let alone raise the budget for scientifically developing an EVP. The reason you might need an agency, thus the services of the potential partner provide may include the following.
Coming up with content for communications
Motivating employees to provide content
Bringing your EVP to life visually
Strategizing and/or finding new applications and communications in line with EVP
Showcasing your culture for candidates
Creating and/or running internal communication or recruitment projects
Fine-tuning your existing communications, design and/or content-wise
Reaching your people KPIs (Employee turnover, recruitment quotas, etc.)
2- SCOPE OF AGENCIES
The scope of employer brand agencies vary. The ideal agency should be with you every step of the way, guiding you toward the front lines. They should approach every communication and project holistically, understanding how one step affects the other. Working with people who have proficiency in every step of employer brand management and brand communications enables you to receive answers to questions you may not have considered asking. Why settle for less?
2A- Internal Communications
These agencies specialize in creating and managing internal communications for organizations, including messaging related to the employer brand. They may handle things like employee newsletters, company-wide emails, and intranet content.
2B- Recruitment and/or Campus Recruitment
TheY focus on attracting and hiring top talent for organizations, often using targeted recruitment marketing campaigns. They may handle things like job postings, career fairs, and social media recruitment campaigns.
2C- (Career) Social Media
These agencies specialize in managing an organization's social media presence as it relates to employer branding. They may handle things like content creation, social media advertising, and influencer marketing.
2D- End-to-end Consultancy (Holistic)
They provide a full range of services related to employer brand management, from research and strategy to creative and execution. They may handle things like market research, developing an EVP, creating an employer brand identity, and implementing communications plans.
We know it might seem complex at first, so we came up with some questions to help you begin the selection process. As we have just mentioned, we have to know if they are proficient in both brand communications and employer branding. Read on to see which service provider would be the best for you.
3- HOW DO YOU DESCRIBE YOURSELF AS AN EMPLOYER?
In other words, what should employer branding mean for you? First, we have to know if you are aware of the reasons why you need to brand yourself better as an employer. As mentioned here, let's first find out in what step of brand communications you are in. Maybe your current project idea only covers the symptoms of a terminal illness and you need to diagnose the source in the culture first… Insufficient briefing of the agency could result in unnecessary spending of time and budget. If you have sound goals with KPIs that help you A/B test, you can continuously improve processes.
3A- Sources of information
You can bring together the overall perception of your company by the following.
Turnover rates
Offer/acceptance ratios
Exit interviews
Development activities
Performance points
Sociological analysis of employees
Recruitment ads
Internal event frequencies & participation rates
The more data provided for the agency, the better idea they would have of your current image. Thus, they can create a more realistic employer brand identity. The employee propositions would be supported by more connected, coherent and cohesive. All in all; clearer, more recognizable and catchier communications.
3B- Quick tips
For the best utilization of agency resources, share a summary of all the employee and candidate communications in addition to the summary of said data. Prior mass-mailed announcements, vacancy ad designs, internal event photos, award ceremonies, orientation documents… Just like in any marketing activity, we have to start only after analyzing all of the data and understanding the current situation best.
Bridging the gap between your brand identity and brand image, or brand communication, takes the shape of many creatives, content, events and operations. This takes us to the next question…
4- IS THE TEAM AWARE OF "BRAND MANAGEMENT" CONCEPTS?
Employer branding, or employer brand communication, is more than "HR communications" or "Recruitment Marketing". It is continuous advertising; it's right there in the name: of branding. Read on more here for detailed information. The perfect strategic brand management steps cover planning, positioning, marketing, measurement, and sustainable value creation.
Brand communications are the perfect symbiosis of science and art and include many concepts and mindmaps that could only be internalized after years of practice. Once you start working with people of such expertise, their responsibility would already be beyond briefing. They should guide you through the below graphics, as you do not have to know about all the processes if your title includes "HR" in it.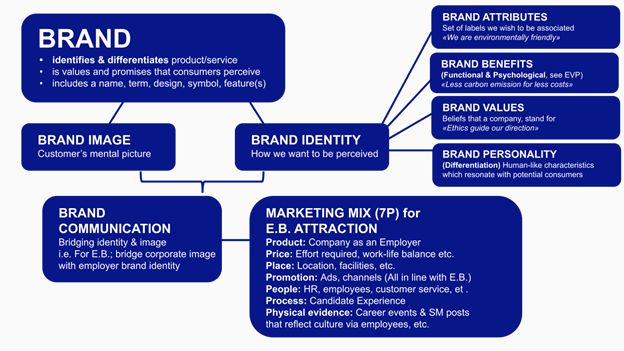 5- ARE THEY GOOD WITH CREATIVES?
Timing is everything in the world of people communications. By this, we include both candidate experience and employee experiences. A big agency has a team of strategists, creative directors, art directors, copywriters, and social media managers at least each for 1 brand client. However; it is highly probable that the more crowded an agency is, the slower you will be delivered. Before agreeing on anything else, you should make sure both parties had agreed on deadlines.
After you are on the same page concerning deliverables, you would not want to have a good strategy (let alone your budget!) go to waste with bad applications of good ideas. You may have checked out the agency's references or gone over their previous creatives… But will the same creative team be working for you? Or will you get a completely new team composed of people inexperienced in brand communications? There are a few methods to make sure, such as the ones below.
Check the personal creatives of your potential team.
Request a very simple case study from the potential team.
Ask about how the brands & employer brands they built or sustained lasted over time. Request measurable results for campaigns!
Ask how many new ideas & innovations their previous clients carry through.
Finally, efficient or correct communication cannot be only "beautiful" with good design. You should also be scientific, and base your tactics on previous data, as part of a strategy.
6- DO YOU NEED END-TO-END SERVICES OR PROJECT-BASED SUPPORT?
When you are selecting an employer brand agency, consider whether you need end-to-end services or project-based support. For fee-based partnerships, you can settle on a specific amount of services and deliverables for a limited time. Be sure to discuss with potential partners which method would suit your current and upcoming needs.
Let's say you have sufficient data before starting communications. This could be anything: an internal innovation program, motivation event, recruitment campaign, a competition that targets young talent, etc. Any of them should be built over the following (employer) brand communication steps.
Research
Analysis
Strategy & Positioning & Persona creation
Tone-of-voice
Brand Identity & Guide
Creation of design templates
Adaptation/Realization of creative deliverables (Ads, covers, videos, banners, etc.)
Media Management
6A- Quick tips
The most efficient partner your employer brand would have are the ones who have experience in all, lifting much weight off your shoulders. Whatever your goal, sustainable and impactful results come into the picture if all communications are consistent under a good EVP. If an EVP is not available, the messages (including design) should be consistent with the image you are striving towards according to brand communication principles. Make sure that the creative team at the agency has the space and trust for what they are supposed to do best. You might be surprised about how many ideas you could hear once you just ask for opinions over a simple HR announcement mail!
6B- Quick example
Another substantial example can better explain what a holistic agency can do: Just carrying through with the top management's request to "update all vacancy ad images with the new EVP" could be realized better with a holistic perspective. Rather than just requesting image updates from the agency, tell them what and why you are taking action. Their brand communication know-how and/or employer brand management know-how can bring ideas about career web pages and social media updates, tone-of-voice revisions, new project recommendations, etc.
7- DO THEY HAVE HR EXPERIENCE?
Knowledge of and expertise in HR processes, and how they relate to each other… A seldom trait observed in brand communication agencies. If you work with a team of the highest calibre, they will be aware of the difficulties you might encounter within your own company: Participation of the top management, approval processes, how organizational cultures transform, must-have elements within projects, and more as we have mentioned here.
Having great foresight and insight concerning the psychology of candidates and employees is another huge, obvious plus. You will be sure that they know firsthand what attracts and motivates people the most, thus having the most efficient strategy, content and design from your partner.
8- HOW WILL YOU KNOW IF YOU ARE SUCCESSFUL?
This question is completely up for you and the potential partner to debate. It depends on the strategy, which you use to reach your KPIs, where goals are determined after analyzing the previous data. Knowing what platforms or systems the agency has in place for goal and awareness measurement can help you accelerate the process. These could be social media interactions, application quality or quantity, career page visits, participation rates in internal events or more.
9- WHO WILL BE YOUR POINT OF CONTACT?
The last question you answer will determine your everyday life until either the project or partnership contract period is over. You must have one point of contact: Consistency is key in any kind of brand management. We have to continuously, coherently, and cohesively communicate our promises through all channels. It all sounds like much to align while handling communications, however, it is a lot more difficult to align when there are many creative stakeholders. The more experience your "one" contact has in employer branding, the more relaxed you are going to feel in your daily tasks. When you select a contact person, consider their experience, communication skills, organizational skills, access to decision-makers, and trustworthiness. This person will be the key liaison between your company and the agency, so it's important to choose someone who is capable and reliable.
10- CONCLUSION
Now, you have a better understanding of how to select an employer brand agency. This means it's time to take action! Whether you need help with creating content for communications, showcasing your culture to candidates, or fine-tuning your existing communications, there's an agency out there that's right for you. You should start by evaluating your needs and goals, and then research agencies that specialize in the services you require. Once you narrow down your options, schedule consultations with potential partners. Specifically ask the questions we've outlined above to ensure you find the best fit for your organization. By working with the right employer brand agency, you'll be one step closer to achieving your goals and creating a strong employer brand that attracts and retains top talent.
To learn more, you can join a free week session of Employer Brand Academy certificate courses here or you can download our free ebook creating an authentic employer brand here