7 Employer Branding Trends in 2022
14/02/2022
Posted by:

Ali Ayaz

Categories:

Employer Branding, Recruitment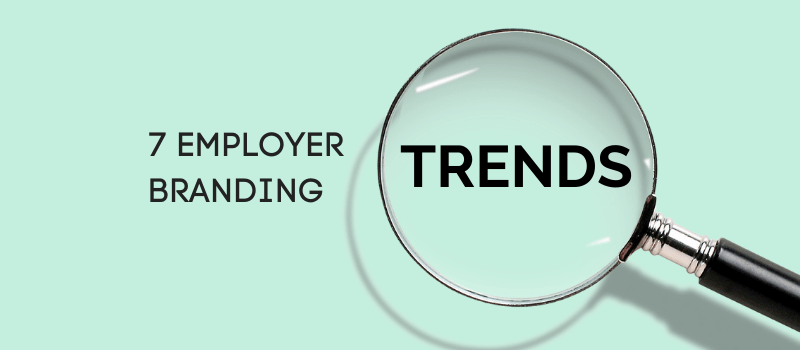 Never since the first industrial revolution, the concept of "employment" had changed so drastically. Startup models, remote or hybrid business models, side-gigs, freelancing, project-based teams… The roles of employers & employees are different from anyone's grandparents. Since ever.
You might have seen a pattern here. The latest disruptions denote that retaining best-performing employees are more of a problem, rather than attracting new talent. These are all results of accelerated Pandemic burnout. "The Great Resignation" or "The Big Quit" showed us that there is also a "great listening" of the workforce. After all, the record-high job openings can only be filled by providing employees with what they want.
The last few years' focus on the psychological benefits are still important. Wellbeing, skill development, purpose-oriented culture now have to be supported with very handsome functional benefits like high salaries and inflation of side benefits.
Let's cut it short and see how to manage your employer brand to provide the greatest of Employee Experience and Candidate Experience.
1 Redefine Employer Branding
As mentioned in When to start Employer Brand communication, you already have an employer brand if you started employing. Plus, anytime people interact with your brand (Corporate or otherwise) they build up an image of you as an employer in their minds. "The devil is in the details", and people are aware enough these days to see beyond your brand communications. From candidate journey to rejection messages, from the number of innovational products to leader communication… Every step you take or not take is part of your Employer Brand. So rather than constructing very expensive development programs, you might want to start with revising your people touchpoints.
2 Define Brand Ambassadorship
Employer Brands also give an idea about corporate culture, as it is a subset of master/corporate brand. And what is "culture" if not constructed & lived through by people, i.e. employees? In the age of social media, your employees are also representations of your employer brand. Generation Z especially takes a look at existing employees before applying for jobs:
Do these people and I have the same purpose?

What does my potential manager act like?

There seem to be many benefits, but would it be sufficient for a sense of belonging?

Think of it like this: While buying a product, do you choose based on advertisement or online customer testimonials? Speaking of online…
3 Manage Digital Perception
Everyone would like to hire an employee who is dedicated… And those who are dedicated for a purpose, do their research! The tech-savvy workforce comes across your ad, then take a look at your social media outlets, career social media page, corporate web site and your career web site or page. Because they are people born into the age of brand communications, they detect inconsistencies and insincerities at once. Make sure your messages, content, design, experiences are in line with your EVP! Otherwise, you will seem like an employer who would not be able to keep their promise -thus creating bad PR.
4 Personalize Experiences
Managing an Employer Brand is now more than doing activities just for the sake of it. People have more options than dedicating 9 to 5 of their lives every day. If you expect people to add value from themselves to their work, they expect the same from the employer. Especially since 2020, one-off "communications" like sharing videos via e-mail or "motivation" events don't make the cut anymore. Even a hand-written welcome letter by the higher-ups or providing material for people to expand their hobbies go a long way -show that you care about the diversity of your people! Show that you are also an authentic company, just like your people!
P.S. Make sure to start with candidate experience (externally), and with onboarding (internally).
6 Facilitate Diverse Collectives
The revision of the concept "D & I" evolving into "DE & I" is a huge sign of how a young concept it is in the world of people management. Diversity is nothing without including diverse people in your projects actively, and equity is meaningless without diversity. As mentioned above, make sure to be authentic, and to this by making your diverse employees speak out for you. It would be more believable for everyone if an underrepresented talent speaks about equity in your company.
7 Research to Plan, Measure to Sustain
Employer Brand Management is all about sustainability. We need to have a living, breathing, evolving brand. This means to always be on the lookout for changes in people's (candidate and employee) needs, perceptions, and the state of the job market. Begin and sustain your projects by determining Personas and KPI's:
Convey with your teams

Perform focus group research

Construct employee engagement surveys

Analyze existing candidate research like Graduate Survey or job market reports
To learn more, you can join a free week session of Employer Brand Academy certificate courses here or you can download my free ebook creating an authentic employer brand here.