What department manages the employer brand?
28/02/2021
Posted by:

Ali Ayaz

Category:

Employer Brand Management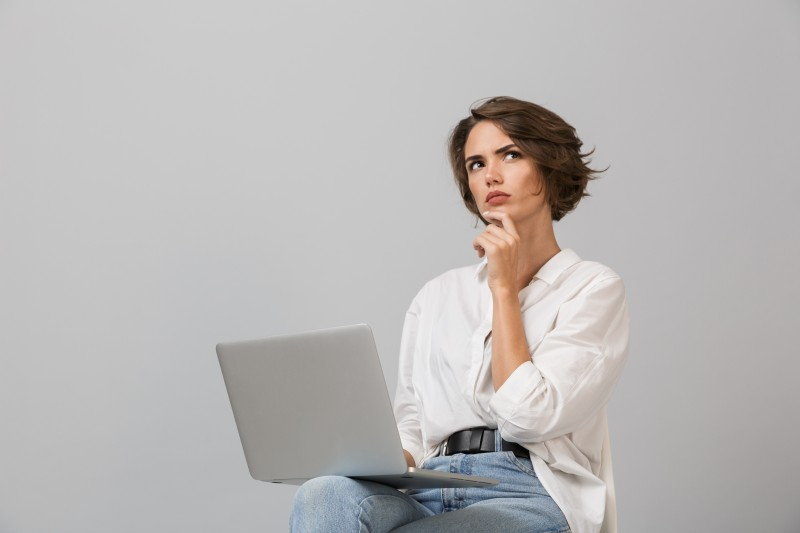 MANAGING EMPLOYER BRAND: THE ROLES AND RESPONSIBILITIES WITHIN AN ORGANIZATION
The management of an employer brand within an organization can be a complex and nuanced topic. This is mostly because many different departments and roles are involved in the process. We often see debate within organizations about which department should be responsible for managing the employer brand. However, many different companies may have different approaches to this task. Some roles may be specifically designated as responsible for employer brand management. On the other hand, some people may have different titles but still play a vital role in this area. Additionally, the same title may have different responsibilities for employer brand management depending on the specific organization. In order to effectively manage an employer brand, it is important for organizations to understand the different roles and responsibilities involved and to collaborate effectively across departments and teams.
In this article, we will be defining specific departments and roles within a company that is primarily responsible for employer brand management.
1- OWNING EMPLOYER BRAND
At the most basic level, all employees are responsible for helping to shape an employer brand. Even if we are expecting everyone to contribute to making EVP a reality, it is not defined as formal goals or job descriptions for the employees. This is why it is important to assign people accountable for the success of the employer brand.
In organizations, responsibility and accountability are often used interchangeably, but they have distinct meanings. Responsibility refers to the obligation to perform a task or complete a certain job function. It encompasses the necessary resources, authority, and skill set to carry out the assigned tasks. Accountability, on the other hand, refers to being accountable for the outcome of a task or decision. It means being answerable for the results, both positive and negative, and taking ownership of the outcome.
2- CORE DEPARTMENTS IN EMPLOYER BRAND MANAGEMENT
2A- Senior Management
Senior management is ultimately responsible for setting the direction and goals for the organization, including the employer brand. They play a key role in ensuring that all departments and teams are aligned and working towards the same goals. Senior management also provides the resources and support necessary for the management of the employer brand, including budget and personnel.
Additionally, senior management should be actively involved in the management of the employer brand. This is mostly built by setting the overall vision & strategy, also by regularly reviewing progress and making adjustments as needed. They should also be involved in the development of key performance indicators (KPIs) and metrics to measure the success of the employer brand management efforts, and should hold all relevant departments and teams accountable for meeting these KPIs.
2B- Human Resources Department
Employer brand management is carried out for each of the touchpoints with a holistic strategy. The HR department is often the main point of contact for employees. Additionally, it is responsible for overseeing the company's recruitment efforts, employee relations, and overall company culture. Finally, they play a key role in managing the employer brand. Specifically, they create and implement policies and procedures that promote a positive image of the company among employees and potential candidates.
Since most of the processes are within the human resources department's scope, if the HR top management is closely involved in this work, it is ideal to have a unit within the department. If the top manager of HR is not involved in employer brand management, it is ideal to have an independent department directly report to the company's top management. The EB department or unit needs to be continuously planned, managed and reported like any other company department such as finance, marketing, and sales.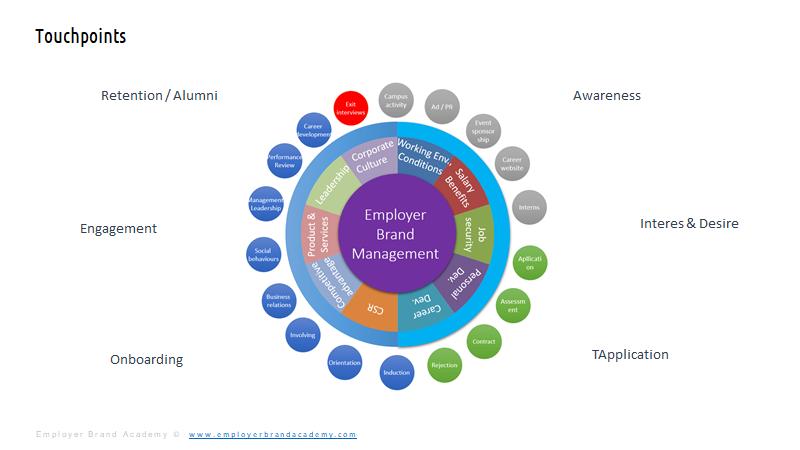 2C- Synergy of Human Resources Department
This team should also work closely with the communications or marketing department and have communication experts within itself. As can be observed in the touchpoint wheel, it contains many skills and competencies. For instance; job planning, recruitment, and talent management, which are more important than internal and external communication within the scope of employer brand management.
Communication plays a critical role, but an employer brand cannot be created solely through it. Brand management is more than social media communication, college recruitment events, and internal communication. To elaborate more on this, we can take "recruitment" as an example. There are many points to consider such as application, pre-screening, interview, assessment, screening, proposal, rejection or acceptance, preboarding, and onboarding. In all of these processes, multi-disciplinary questions must be asked to ensure a coherent employer brand image. These questions should include but are not limited to what we share below.
How do we keep our EVP promise and deliver the experience in each step?
How fair and transparent are our processes?
How do we communicate with the candidate at every stage? What kind of information do we provide, and who communicates with the candidate?
How do we get feedback from the candidate? How is negative feedback reflected in the performance of the recruiters and hiring managers?
How does a poorly designed onboarding affect turnovers?
As can be observed by the sample questions, communication experts should also be included in the team who are in close contact with corporate communication.
2D- Communications and/or Marketing Department
The primary goal for the Communications Department is to develop and maintain a positive public image for the organization, while also effectively communicating the organization's message to key stakeholders and the general public. They are responsible for managing external communications, mostly along with internal communications.
"Internal communications" seem like a better fit under the HR department. Since it includes employee communications, internal branding, and employee engagement; it makes sense. It is a crucial aspect of employer brand management as it ensures that employees are informed, engaged, and aligned with the company's mission, vision, and values. Additionally, internal communications help to foster a positive company culture and increase employee satisfaction. As a result, you can have improved retention rates and more attractive reputation as an employer. It is important for organizations to have a dedicated internal communications department that can focus on employee engagement, internal branding, and the overall employee experience. This, in conjunction with a strong external communications strategy, can help to foster a positive employer brand and attract top talent.
"External communications", on the other hand, includes public relations, media relations, and reputation management. In this context, They work closely with Marketing to create and execute campaigns that promote the organization's products or services, as well as assist in crisis management and reputation management efforts, which are crucial for maintaining the organization's image and reputation.
3- MARKETING DEPARTMENT & BRAND MANAGEMENT
The ultimate goal of Marketing is to increase brand awareness and drive sales. In the context of brand management, they create and execute strategies that protect and enhance the organization's brand image, reputation, and value. By working closely with other departments and stakeholders, they help to establish a strong, positive reputation for the organization and attract potential customers, partners and employees. These endeavors include the following responsibilities.
3A- Create and implement a brand strategy
The brand strategy should align with the organization's overall mission, vision, and values. This includes identifying the target audience, developing a unique value proposition, and creating a brand identity and messaging.
3B- Creating and managing the organization's visual identity
For instance; the logo, color scheme, typography, and other visual elements that are used in marketing materials.
3C- Creating and executing marketing campaigns
The campaigns should align with the organization's brand identity and promote the organization's products or services to the target audience.
3D- Monitoring and analyzing brand efforts
For example; using data and feedback from customers, partners, and other stakeholders to make necessary adjustments and improvements.
3E- Maintaining consistency across all touchpoints
This includes websites, social media, email marketing, advertising, and other marketing materials.
4- BRAND MANAGEMENT & EMPLOYER BRAND MANAGEMENT
Please bear in mind that creating and managing employer brand for organizations follow through almost similar steps. It is crucial for employer brand communications to be resonant and coherent with the corporate brand for several reasons.
Firstly, a consistent and coherent brand message across all channels, including employer branding, helps to establish trust and credibility with potential candidates. Candidates are more likely to believe and trust a company that presents a clear and consistent message about who they are and what they stand for.
Secondly, having a resonant and coherent employer brand message can help to attract the right talent. When a company presents a clear and consistent message about its values, culture, and mission, it makes it easier for potential candidates to determine whether the company aligns with their own values and career aspirations. This can help to attract candidates who are a good fit for the company. As a result, this can lead to better retention and engagement among employees.
Thirdly, a consistent and coherent employer brand message can help to create a sense of cohesion and belonging among current employees. When employees see that the company's employer brand message aligns with the corporate brand, they are more likely to feel proud of their employer and feel a sense of belonging to the organization. This can lead to increased employee engagement and productivity.
5- BRAND MANAGEMENT & BRAND RESONANCE
The marketing team comprises of highly skilled individuals who possess expertise in various areas of branding. The list includes content creation, design, social media, design, analytics. These individuals are well-equipped to support employer branding efforts by providing valuable insights and resources.
For example, when an employer brand team is launching an internal communications campaign, the brand managers within the marketing team can provide their expertise and resources to enhance the campaign's reach and impact. This can include creating visually appealing videos or designing eye-catching graphics to grab the attention of employees.
Furthermore, the marketing team is skilled in the art of storytelling, which is essential for employer branding. They can help craft compelling stories that communicate the company's values, culture, and mission to potential candidates and employees, making the company look more attractive. Employer branding professionals should collaborate closely with the marketing team to tap into their resources and expertise.
There are several employer branding projects that would bring HR and these other departments together, some of them would include:
5A- Employee advocacy program
The HR, Communications & Marketing departments can work together to develop and implement an employee advocacy program. This program should encourage employees to share positive information about their employer on social media and other platforms.
5B- Recruitment events
They can work together to plan and execute recruitment events such as job fairs, open houses, and networking events that showcase the organization as a desirable place to work.
6- CONCLUSION
Clearly, employer brand management is not just a one-time or occasional task. On the contrary, it is rather a continuous effort that requires a dedicated team and resources. By understanding the different roles and responsibilities involved, and collaborating effectively across departments and teams, you can effectively manage our employer brand and attract top talent.

To learn more, you can join a free week session of Employer Brand Academy certificate courses here or you can download our free ebook creating an authentic employer brand here.
—
If you like what you've read, please feel free to share this post on your preferred channels.
If you have a question or have had a similar experience, please leave a comment below so that fellow employer brand professionals can learn from your experiences.