Are employer brand and EVP the same thing?
26/04/2021
Posted by:

Ali Ayaz

Category:

Employer Brand Management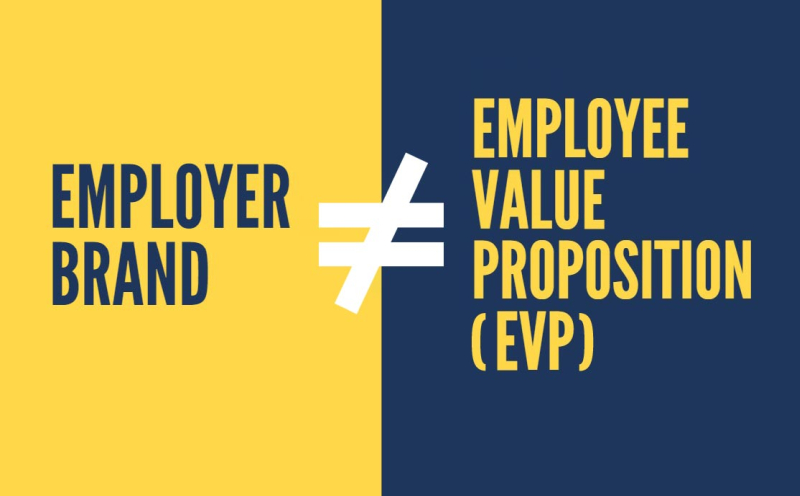 They are absolutely not. The employer brand is the brand you create as an employer by managing the process with a strategic and holistic approach that includes your EVP.
EVP (employee value proposition) is a platform that you will use for communication and actions. It is a summary and the base of the experience you promise to candidates and employees.
Employer brand management is your strategic planning and management to transform all processes and practices (sourcing, recruitment, talent management, performance management, etc.) from their current situation into an experience aligned with your EVP.
In summary, EVP is part of your employer brand, but not all of it.
How do you create a compelling and distinctive EVP?
As I mentioned in my 3.5-step employer brand strategy article, you should start creating an EVP by first defining your target audience. Which candidates (Candidate persona) are you targeting, and what value will you propose them (EVP)?
It is the stage where you define your target candidate persona, develop your EVP – the value proposition- and creative work to attract and keep extraordinary talent.
I usually do it with a kickstart workshop where I present the interim report and then start talking about the future, the vision of the company and how we should align the talent force according to the business of the organisation.
A candidate persona is a semi-fictional representation of your ideal candidate. Define the candidate persona starting by asking
What kind of overall qualities do we need to recruit more of in the future to achieve our business goals in our corporate vision? What kind of person should they be?
Once you warm up answering this question, continue asking more questions.
Who do we want to attract to our organisation?

What kind of people will fit in your organisation?

What skills, and competencies do they need to have to take the organisation to its future vision?
After defining the generic candidate persona, start putting your offer together to attract this person to your organisation.
What makes your organisation special as an employer?

Why should people join you, stay and commit?

What can you offer as an organisation to attract the target group of employees and retain them engaged?
Your answers will form your EVP.
What are the rules of an excellent Employee Value Proposition?
Credibility Does it ring true? (in terms of the organisation at its best)
Distinctiveness Is it distinctive? (in terms of being distinctively strong or differentiating)
Focus on future target profile Would this provide a desirable workplace?
Engaging/energising Is it compelling/motivating?
Business alignment Does it reinforce the qualities/competencies you need from employees to succeed as a business?
Employer Brand Management
You can start building your strategy by answering two simple questions.
How can you turn your EVP into an experience in all your HR processes?

What are you doing in the current situation, and what should you do to deliver your promise?

To learn more, you can join a free week session of Employer Brand Academy certificate courses here or you can download my free ebook creating an authentic employer brand here.
—
If you like what you've read, please feel free to share this post on your preferred channels.
If you have a question or have had a similar experience, please leave a comment below so that fellow employer brand professionals can learn from your experiences.