A step-by-step guide to crafting a successful employer branding campaign
26/02/2023
Posted by:

Ali Ayaz

Category:

Recruitment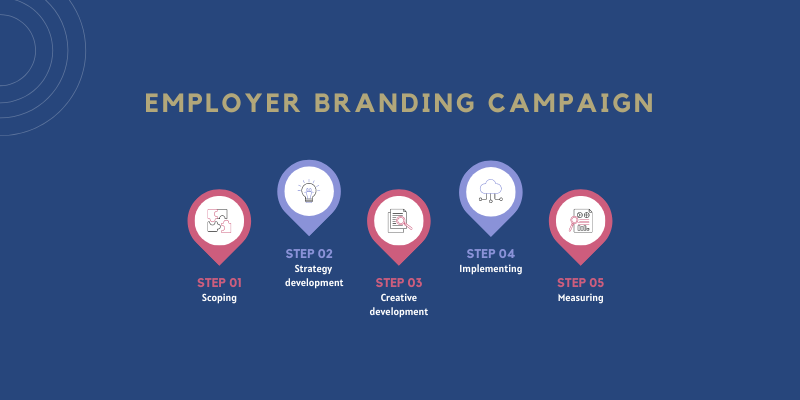 Creating an effective employer branding campaign can be a daunting task. It is a multi-step process that involves research, strategy, implementation, and measurement. However, understanding the difference between employer brand and employer branding is key to creating an effective campaign. We will be able to follow a structured process more easily by knowing this nuance. Thus, we will more effectively communicate our unique value proposition to both current employees and potential candidates.
1- Introductory Concepts
1A- The difference between employer brand and employer branding
Employer brand management is the development and implementation of a strategy to reinforce the employer's perception in the talent market. This includes elements such as the quality of the employer's products or services, the value proposition offered to employees, research, positioning, creativity, visual identity, communication, customer care, and consistent management and measurement. Employer branding, on the other hand, is the communication aspect of employer brand management. It is the techniques and methods used to influence the perception of the employer brand through advertising and distinctive design.
1B- The relation between campaigns and EVP
A campaign is a series of coordinated efforts to achieve a specific goal, and all actions provide reasons to believe in the slogan or motto of the campaign. In the context of employer branding, we use campaigns to reach employee and/or candidate goals. These goals can be increasing enrolment in a development program, or internship program, or increasing internal referrals for new talent.
When planning an employer branding campaign, it is important to keep in mind the organisation's Employee Value Proposition (EVP). The EVP is a statement that communicates the unique value that the organisation offers to its employees. Every action within the campaign should align with and support it; providing reasons to believe in the value proposition.
1C- The goal of having campaigns
The AIDA model is a widely accepted framework for designing effective marketing campaigns, including employer branding campaigns. The model describes the stages that a "consumer" goes through when taking an action (i.e."purchase decision"). We apply the same logic to the employee's or candidate's decision-making process. These people may be thinking of joining a team, starting an internal project, or attending an event within an organisation.
When starting an internal or external employer branding campaign, the goal is to implement the AIDA model. This means to create awareness, interest, desire, and action among existing employees or candidates.
1D- AIDA model & employer branding campaigns
We can design an employer branding campaign by following the AIDA model. This, in turn, will create awareness, interest, desire, and action among potential or existing employees. Ultimately, we will lead to increased engagement, retention, and talent attraction.
1E- Steps to building an employer branding campaign
We categorise the key steps involved in creating an effective employer branding campaign into three main parts.
Planning

Building the team & choosing the agency
Creating the strategy
Deciding on the tactics
Creating the timeline
Deciding on the budget

Creative Development

Campaign Identity: Key Visual & content
Designing the tactics
Implementing tactics & updating the timeline

Implementation

Measurement
Teaser period
Action period
Now, let's get into the details of creating an employer branding campaign.
2-Planning
2A- Building the team & choosing the agency
In developing an effective internal communication strategy, it is important to establish methods for evaluating the team responsible for implementing the strategy. This may involve tracking metrics and soliciting feedback from the target audience in order to adapt and refine the message as needed. It is also crucial to consider the composition of the team, ensuring representation from various departments and levels within the organisation to provide a diverse range of perspectives and expertise.
There are many reasons an organisation might need an employer brand agency. Employee Value Proposition is the axis of all employer brand communications, but not all communications revolve around an EVP. Most companies might not have the budget for coming up with any kind of strategy, let alone raise the budget for scientifically developing an EVP. The services provided by a said potential agency partner could include the following.
Coming up with content for and bringing the EVP to life visually
Strategising and/or finding new applications and communications in line with EVP
Fine-tuning existing communications, design and/or content-wise
The scope of employer brand agencies can include internal communications, talent recruitment, career social media, or a combination of all options. When choosing an employer brand agency, it is important to work with a partner that approaches every communication and project holistically and guides us toward the front lines. The agency should have proficiency in every step of employer brand management and brand communications and be able to provide answers to questions we may not have even considered asking. Ultimately, the most preferable agency should be one that works closely with us at every step, to ensure the success of our internal communication strategy.
2B- Creating the strategy
An employer branding campaign strategy is a comprehensive plan that outlines the overall goals, target audience, key messages, and specific methods to execute the campaign and achieve the desired outcomes. The development of a strategy is essential for any employer branding campaign as it provides direction and focus for the efforts, and ensures that all efforts are aligned with the organisation's goals and that resources are utilised efficiently.
The development of an effective strategy requires input from subject matter experts with a diverse range of expertise, including marketing, human resources, and management. These experts can provide valuable insights into the unique needs and goals of the organisation, as well as an understanding of the target audience and the current market landscape.
When we include input from these experts, our strategy can be tailored to meet the specific needs of the organisation. Thus, we can ensure that the campaign is successful in achieving its objectives.
Research
Begin by conducting research to understand the target audience, the distractors, and the cultural status quo. This includes researching what makes the employer unique, identifying the key selling points, and understanding the needs and wants of the target audience.
Strategy
Based on the research, develop a strategy for the employer branding campaign. This includes defining the target audience and channels, setting goals and objectives, and identifying the key messages and themes we want to convey.
Content strategy
Employer branding campaigns often rely heavily on content tactics, so it's essential to develop a content strategy that aligns with the overall campaign goals. This includes identifying the types of content we will create (e.g. blog posts, videos, infographics, etc.), the topics that will be covered, and the platforms where the content will be distributed.
2C- Deciding on the tactics
In order to determine the best channels to use for our internal or external communication strategy, it is important to consider the tactics that will be most effective in delivering our plan and meeting our organisation's objectives. Reviewing channels to choose what kind of tactics would support our strategy by asking some questions helps immensely.
Will our communications be only online or offline? Will it be hybrid?
Will there be an event or meeting in the project?
Is there a plan to purchase or manufacture gifts, kits, etc.?
Is there any kind of shooting or recording that we need to plan ahead?
Does the project have a website that we need to plan ahead?
2D- Creating the timeline
When developing our tactics, it is helpful to create a timeline to ensure that all tactics work together seamlessly over time and to include all relevant details. Make sure to include all the details we had at hand when we started out this step. The best channel mix in our strategy will check all or most of the following.
Creates the most positive awareness of our message
Engages the most employees and stakeholders with reciprocal communication
Enables other activities such as pulse surveys
Includes additional content or material that provides information
Presents a platform for the people to provide feedback and ideas
If we have many KPIs to keep track of and/or plan to learn from our first trials, we can categorise the channels depending on how many creative deliverables and operational man hours they would need. Please bear in mind digital channels are often easier to monitor for KPIs and operational tasks!
3- Creative Development
Once we have a strategy in place, we can begin developing the creative elements of our campaign. This includes creating a visual identity, developing a messaging platform, and creating campaign assets such as videos, graphics, and social media content.
3A- Developing campaign identity
A campaign identity is a unique and consistent visual and verbal representation of a specific campaign or marketing effort. It helps to create a clear message and makes it easier for the target audience to recognise and remember the campaign. The steps for creating a campaign identity are below.
Defining the campaign's key message, objectives, and target audience. This will help guide the development of the visual and verbal elements of the campaign identity. We
Developing the visual elements of the campaign identity, concluding from the strategical analysis. These steps would include:
Naming project / program (If applicable)
Adding descriptor to project / program (If applicable; a slogan or motto or tagline)
Designing the logo or logotype based on the first two steps above
Designing the Key Visual of the campaign, which references the goals of the campaign in an interesting & attractive manner.
Key visuals are the main visual elements that represent the campaign. We use them across all communication materials such as websites, social media, and advertising. They can include elements like photographs, illustrations, or graphic designs that reflect the campaign's key message and target audience. The process of creating key visuals includes: conceptualising, designing, and refining based on feedback and testing to ensure they effectively communicate the campaign's message.
Defining the campaign's voice and tone, which will be used in all written communications, such as the website and social media posts. For beginners, it is the most viable option to use the overall voice & tone defined in its employer brand guidelines.
3B- Designing the tactics
There are many tactics we can use in campaign strategies depending on the campaign's goals and target audience. Some examples include the following.
Advertising
Using various forms of advertising such as mailing, e-newsletter, Intranet, mobile app, digital display, on-site branding ads to reach the target audience.
Website / Microsite creation
Creating a website for a campaign can be beneficial for several reasons. Most importantly, it serves as a central hub for all information about the campaign. This allows people to easily access and share information about the campaign, such as its goals, key message, and call-to-action. Another main benefit is that it allows us to track & measure the campaign's performance. Our KPIs can be the number of visitors, conversion rates, and engagement metrics. This data can be used to optimize the campaign's effectiveness. The additional practical benefits of having a campaign website are as follows.
Sharing point of supporting materials such as infographics, timelines, Videos, E-Bulletin archive, Handbooks, Presentation files, FAQs
Making live broadcasts and watching the recordings
Receiving questions, suggestions and feedback
Promoting / Introducing stakeholders (and teams)
On-site branding
Solutions such as banners, backdrops, billboards, flags, 3D models or installations can be installed where people work.
Event marketing
Hosting events, such as conferences, trainings, launches, or meetups to raise awareness and generate interest in the campaign.
Continuous engagement
Keep the conversation going with employees or candidates and make sure they are engaged in the brand campaign. create a list of their feedbacks, and act accordingly. A few methods to achieve this include but are not limited to the options below.
Employee advocacy
Employees are the best brand ambassadors for an organisation. Encourage employees to become brand advocates and to share their own stories to help build a stronger employer brand.
Feedback collection
Employees' thoughts and recommendations on the project or the project's communications can be received via the project website, a dedicated email address, the internal project ambassadors, pulse surveys, or in town hall meetings.
Community building
Building a community around our brand can help attract and retain top talent. Platforms like LinkedIn and Glassdoor are great places to create a presence and show off employee stories, and positive reviews from employees.
Influencer marketing
Partnering with influencers to amplify our message and boost our brand visibility can be a great way to reach a wider audience. Identify influencers within the industry who align with the brand values, and reach out to them with a partnership proposal.
These are just a few examples of tactics that can be used in campaign strategies, but the specific tactics that will be most effective will depend on the campaign's goals and target audience.
3C- Implementing tactics & updating the timeline
We now have decided on what tactics to use. Once the content strategy is in place, it's time to start creating the actual content. This can include writing blog posts, filming videos, creating infographics, and more. It's important to keep our target audience in mind when creating the content, as this will help ensure it resonates with them. Each tactic will have its own specific qualifications for our messaging to get through. This means we will need to adapt our designs and content according to the requirements of each channel. For example, an SMS message will have only text and only a limited number of characters. On the other hand, with an email bulletin, we can convey information about the campaign and have various traffic drivers such as registration or a video for the campaign video.
After coming up with tactics and delivering the creatives for the employer branding campaign, it may be necessary to update the timeline that was created during the development of the strategy for several reasons.
Resource allocation
The tactics that were chosen for the campaign may require different levels of resources than initially anticipated, which can impact the timeline. For example, if the campaign includes an event, it may take more time to plan and execute than originally planned.
Budget constraints
The tactics that were chosen for the campaign may have different costs than originally anticipated, which can impact the budget and timeline. For example, if the campaign includes a significant amount of paid advertising, it may take more time to secure funding and execute the tactics.
Feedback and testing
After developing the tactics, it may be necessary to test and gather feedback on the campaign's messaging, visual elements, and other components. This can impact the timeline, as additional time may be needed for testing, gathering feedback and making adjustments.
Align with external factors
The initial timeline may not take into account external factors such as holidays, industry events, or other planned campaigns that may impact the timing of the employer branding campaign.
4- Implementation
After the creative elements are in place, it is time to implement the campaign. This includes creating a content calendar, scheduling social media posts, and possibly creating landing pages for the campaigns. After the content has been created, it's time to distribute it to the target audience. This can include publishing it on its own website, sharing it on social media, and reaching out to media outlets to get it featured in relevant publications.
3A- Measurement
The breaking point for our communication activities to reach their goals is being able to monitor the variables. Measure the success of campaigns by tracking key metrics such as website traffic, social media engagement, and applicant conversion rates. Use the insights gained from the measurement to make data-driven decisions and optimize the campaign for maximum impact. It's important to track the results of our employer branding campaign so we can identify what's working and what's not. This includes tracking metrics like website traffic, social media engagement, and lead generation.
Define the touch points that will let us do continual improvements: Make necessary adjustments according to the insights from the measurements. This can include tweaking messaging and content to better engage with our target audience, or using new recruiting channels to reach new candidates. Based on the results of the campaign, make adjustments to optimize it further. This can include experimenting with different types of content, adjusting the messaging, or targeting a different audience.
3B- Teaser period
The "teaser period" in employer branding campaigns refers to a period of time before the official launch of a campaign, during which a "teaser" or preview of the campaign is communicated to the target audience. The goal of the teaser period is to generate buzz and anticipation for the campaign among the target audience, and to create a sense of excitement around the launch. It does not matter if the employer branding is internal (aiming for employee engagement / action) or external (candidate awareness / action), methods are all the same. Mostly, this step covers the "Attention, Interest, Desire" points of the AIDA model -meaning actions are mostly taken in the "action period". For example, the expectation from the employees would be to "save the date" of an event rather than "provide RSVP" for the event.
3C- Action period
This is the step where we realize all the communications that we want to result in specific "actions" on the employees or candidates. However, we can still communicate with awareness content as long as they have traffic drivers or additional info on how to take action.
If our timeline of communications was designed realistically in such a way that they would garner enough attention and interest, while not overexposing our target audience, we will be reaching our goal: Engagement.
To learn more, you can join a free week session of Employer Brand Academy certificate courses here or you can download my free ebook creating an authentic employer brand here.