What is employee branding and its relation to employer branding?
05/05/2022
Posted by:

Ali Ayaz

Categories:

Employer Branding, Recruitment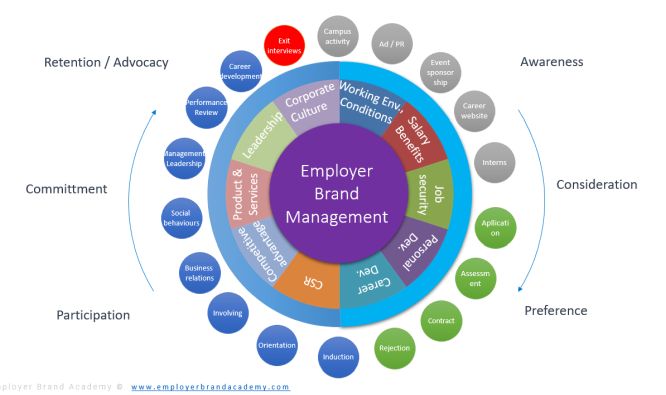 The Employee Branding Confusion And Its Importance In Today's Market
Employer branding involves creating a brand identity and value proposition (EVP) to attract and retain top talent. Employee branding is the ultimate result of robust employer brand management: transforming employees into willing brand ambassadors. However, one of the biggest sources of confusion in the industry is the term "employee branding." In this tutorial article, we will clarify what employee branding means and how it relates to employer branding. We will also provide actionable steps for constructing an employee branding programme.
1- The Role Of Employee Branding
Employee branding is not the same as personal branding or using employer brand identity elements on personal social media accounts. Specifically, it is about employee advocacy in the context of employer brand, instead of simply marketing and sales.
Employee branding involves motivating employees to talk positively about their employer, especially on social media platforms. These organic shares reach the employee's network and provide top-tier data. Employee branding helps establish the desired brand associations in the minds of the target audience through consistent communication and delivered experience. It's important to understand the benefits of such an initiative:
It is essentially free! This means you don't need to spend any money, plan extensively, or dedicate any additional human resources to achieve it. Because the content people share is authentic, it is more believable than anything that could come from a company account.
It creates word-of-mouth, which is the most trustworthy source of news for almost everyone.
It allows you to reach your employee's peers, who are likely to have similar backgrounds and practices, and therefore, represent top-tier data
By leveraging your employees' experiences and insights, you can improve your company's reputation and credibility, making it a more attractive place to work and do business with.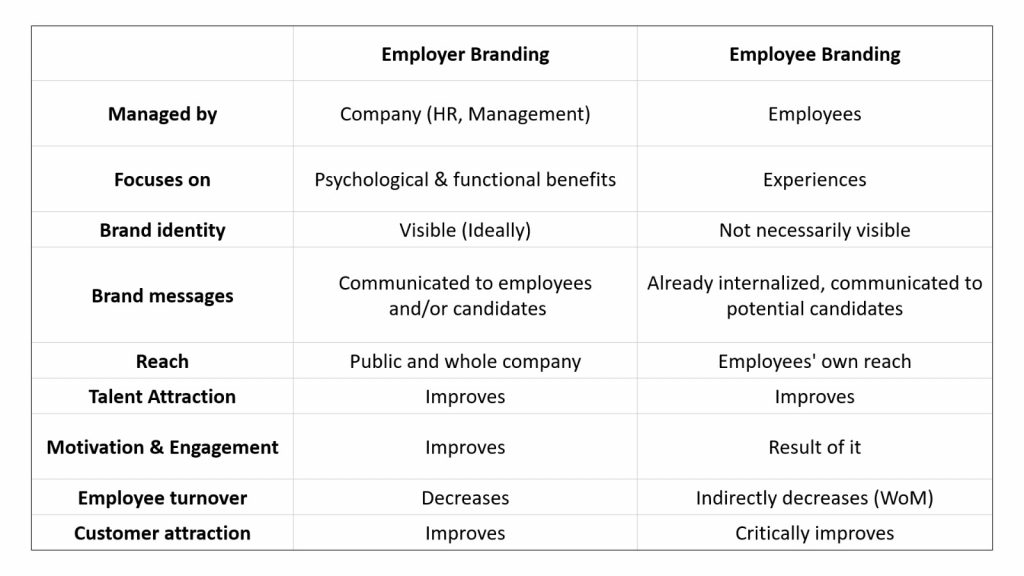 2- The Key To Employee Branding
For implementation of projects, it may initially seem overwhelming to consider all of the various communication channels. However, implementing an employee branding programme doesn't necessarily require an exhaustive strategy each time. Rather, the key is to motivate employees to speak positively about their employer of their own accord. This can be accomplished by helping employees self-realize and fostering a sense of engagement and motivation within the workforce. By doing so, your employees will be less likely to leave for purely functional benefits and your company will become a more attractive destination for top talent. But how can you achieve this level of employee engagement?
The answer lies in understanding the Hierarchy of Needs. Specifically, this model illustrates the fundamental needs that people must satisfy to feel fulfilled. By addressing each level of need, from physiological to self-actualization, you can create an environment in which employees are motivated and inspired to become advocates for your brand. This, in turn, can help to build a positive image for your company and make it more appealing to both existing and potential employees.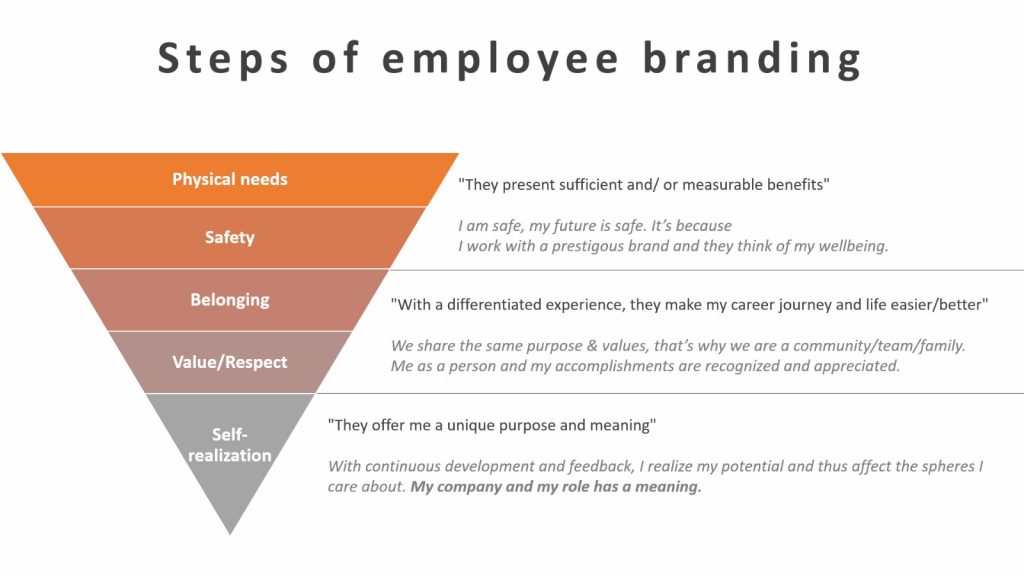 3- Constructing Employee Branding Programmes
3A- Start with leaders
If you have the support and buy-in of C-level executives, this will help to accelerate the programme. Thus, because change typically begins from top-down, you should start at the top for the kick-off. Presenting KPIs is a helpful tool, but benefiting from data internally is arduous. The process can involve surveys, research, analysis, and strategy. If budget or other constraints prevent you from implementing KPIs, consider breaking the programme down into smaller, concurrent projects.
As you work to develop your employee branding programme, keep in mind the unique strengths and characteristics of your company and your workforce. There's no one-size-fits-all approach to this type of initiative, as business cultures can vary significantly across industries, regions, and departments. To get started, consider launching a pilot programme with a team or department that embodies the brand personality of your company. Ideally, every department should have its own employee branding representative, with the support of top managers. By starting with the most influential people in the company, you can generate buzz and excitement about the programme and begin to build momentum. To generate even more interest in the early stages, consider implementing some of the tactics outlined in step #7.
3B- Ensure a safe environment
Let's tackle step 2 of creating an employee branding programme. Now to ensure a safe environment for employees so that they can share their love for their employer! If people feel uncomfortable in their workplace, they are unlikely to speak positively about their employer. In a toxic workplace culture, it's better to focus on addressing these operational issues before launching an employee branding programme.
If you're not sure whether your workplace culture is conducive to employee branding, below are some indicators to watch out for.
High turnover
No work-life balance
Tension within and between teams
Ambiguous job definitions and responsibilities
Low rate of internal role advancement
Cliques and gossip
Micromanagement by leaders
Distrust in leadership
No reflection time on past projects
Poor feedback culture
Lack of creativity
Constant meetings
Low attendance rates at internal events or trainings
3C- Quick tips on safe environment
toxic work cultures can manifest in different ways depending on the organisation. This is why the list below may not be exhaustive. and Here are some quick ideas to combat negative workplace vibes and create a safer environment for your employees.
Prioritize onboarding, orientation, and relevant training to make employees feel safe from the start
Communicate ethical principles, physical safety regulations, and corporate social responsibility activities in a humanized manner
Increase the visibility of leaders and promote transparent communication
Instil trust in employees' abilities
Provide adequate physical and psychological support for work environments
Foster creativity and innovation with inclusive projects
Hold regular town hall meetings
Implement a modern performance management system to help employees understand their place in the bigger picture
Communicate corporate purpose clearly and regularly in internal communications
Conduct regular check-ins with employees
Offer fair financial compensation
Establish one-to-one development programmes, such as mentoring, reverse-mentoring, or buddy systems
Provide wellbeing opportunities, such as apps or internal programmes
Create a platform for employees to appreciate and recognise each other's successes
Embrace the importance of diversity, equity, and inclusion and communicate this both internally and externally.
3D- Consolidate communications
In this step, we will be leveraging the expertise of brand communications to consolidate all the efforts made so far. If you are not well-versed in marketing, advertising or branding, it's recommended to collaborate with your agency to make the most of their knowledge and support. As previously mentioned, the EVP (Employee Value Proposition) is a critical reference point for employer branding. It helps to establish desired brand associations in the minds of the target audience through consistent communication and delivered experiences.
By bringing together all the programmes and projects listed in this article, we can create a simplified message that resonates with your audience. This will help all your efforts feed into the same value proposition, ultimately reserving a differentiated place in the hearts and minds of your audience. To learn more about how to achieve this, check out the resources provided here and here for more detailed information.
3E- Promote company values
In this step, we focus on promoting your company's core values. However, we need to go beyond the generic corporate values and look for those that truly reflect your company culture and resonate with your employees. It's not just about listing values; it's about fostering an environment where they are felt, practiced, and celebrated.
To achieve this, you may want to ask yourself and your team the following questions:
What are the unique values that our company stands for?
Are our leaders embodying and modelling these values?
Do we have branded and easily accessible reports that showcase our values in action?
Are we effectively using storytelling and a warm tone-of-voice in our communications to bring our values to life?
Answering these questions will help you create a more authentic and meaningful employee branding strategy that resonates with your target audience. Remember, promoting your values is not just about attracting new talent; it's also about retaining and engaging your current employees, creating a positive and supportive workplace culture, and ultimately driving business success.
3F- Stimulate employees
One way for employee branding to be quickly successful is by offering measurable side benefits and reward systems that incentivise employees to embody and promote your company values. For example, you could create an inclusion programme that recognises employees who act as value ambassadors or participate in culture transformation initiatives. These programmes not only provide internal recognition but can also be promoted externally, helping to build a positive employer brand. By creating a sense of teamwork where everyone benefits, you can stimulate employees to engage with the programme and become enthusiastic brand advocates.
3G- Highlight social media
After putting in the foundational work, it's time to collaborate with your agency to create a cohesive brand image online. This step is crucial because it provides an opportunity to showcase your employees' pride and love for the company in a public space. With the help of your agency, you can create materials and hold events to guide your employees on how to use your master and employer brand in the digital world. Remember to keep it authentic and not to overdo the branding. Start by showcasing your leaders, as we mentioned in Step 1. By doing so, your employee branding will come across as more genuine and believable. Don't miss out on this chance to catch that genie in a bottle!
3H- Get continuous feedback!
To ensure the success of your employee branding efforts, it is important to continuously gather feedback and improve your strategies. There are several methods you can use to gather this feedback and keep track of your progress.
Using employee engagement or advocacy software. Use gamification and communication tools to motivate employees and facilitate sharing of branded content.
Monitoring third-party career sites. Keep an eye on reviews and testimonials from both ex-employees and candidates to get an honest perspective on your employer brand.
Surveying employees. Conduct annual or pulse surveys through internal communication channels to gather feedback and insights from your workforce.
Using social listening tools. Analyse sentiment and hashtags on various social media platforms and forums to understand how your employer brand is perceived by the public.
Tracking internal events. Track attendance rates and employee participation in inclusive events to gauge their level of contentment within the company.
By using these methods, you can stay on top of your employee branding efforts and make continuous improvements to keep your workforce engaged and motivated.
4- Conclusion
Employee branding is an essential component of successful employer branding. By motivating employees to speak positively about their employer and establishing a cohesive brand image online, companies can create a positive reputation and attract top talent. Employee branding goes beyond personal branding and allows companies to leverage the experiences and insights of their employees to improve their reputation and credibility. By following the actionable steps outlined in this tutorial, including starting with leaders, creating a safe environment, promoting company values, stimulating employees, highlighting social media, and getting continuous feedback, companies can build a successful employee branding programme. Ultimately, a positive work environment, strong employer branding, and engaged employees will help companies attract and retain top talent and drive business success.
To learn more, you can join a free week session of Employer Brand Academy certificate courses here or you can download our free ebook creating an authentic employer brand here.