What is employee branding and its relation to employer branding?
05/05/2022
Posted by:

Ali Ayaz

Categories:

Employer Branding, Recruitment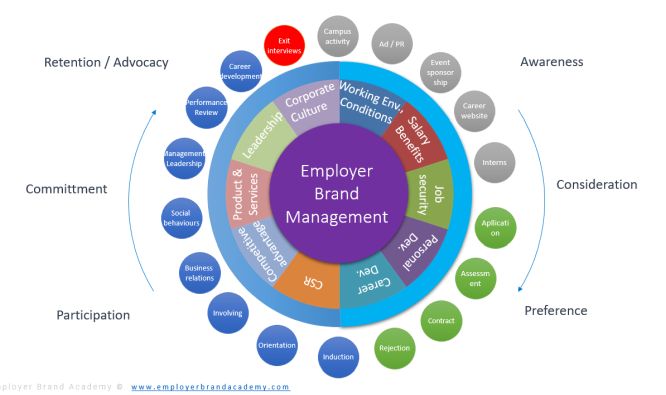 One of the biggest sources of confusion in the industry is the term "employee branding". Here are some of the problems you might have come across:
Using the term interchangeably with employer branding
Wielding the term instead of "personal branding" of employees
Adapting employer brand identity elements to personal social media accounts
There are a few concepts to know before we get to talk about what employee branding means and in what part of the employer branding process it comes into play. And for the sake of clarification, we will only be making use of the term as it relates to careers. In other words, employee advocacy in the context of employer brand, instead of simply marketing/sales. In addition to knowing the difference between brand and branding, it would be great to realize that anything could be branded: Products, locations, people, beliefs, movements… Speaking in marketing and advertising terms; branding exists if the brand is visible. Speaking in public relations terms; you have already started communicating your employer brand once your master brand became visible. Having an EVP and its related brand identity makes the said process more structured.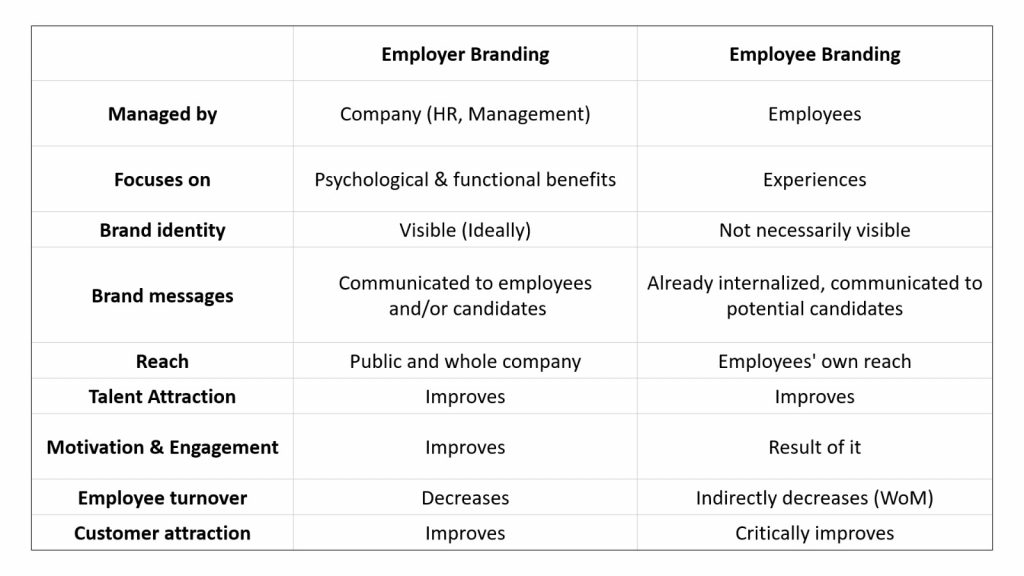 To put it simply, employee branding is the ultimate result of robust employer brand management: The transformation of employees into willing brand ambassadors. This dreamy scenario might be one of those you might have encountered on social media, especially LinkedIn. People talk about how proud they are of an unrelated team's achievements, people thanking their managers or just people who brag about their employer's side benefits… Each shares huge pluses for your image as an employer. You appear in the feed of the employee's network organically, which means:
You reached your employee's peers, who have similar backgrounds and practices (Top tier data!)
You spent exactly zero budget, zero planning, zero manhour
What was said about the employer was infinitely more believable as it came from a real person, not a company account!
These were just 3 very simple examples of employees positively representing your company out of their own volition (Click for more). However, LinkedIn or the rest of the big five are not the only media that "is social". Employer review sites, forums, or platforms like Reddit are also places where people talk about their employers. What's more, the Pandemic should not make us forget the biggest instigator of perceptions: Word of mouth (WoM)!
It might seem like there is a huge amount of work ahead of us, considering all the various communication channels. This situation does not mean that we have to strategize and think about all of the channels. We are simply talking about employees having some kind of motivation to talk about their employers of their own will. The definition of the task is simple: Help your people self-realize themselves. If we are successful in this, your workforce will not leave another company just for the functional benefits and the best candidates will be willing to work for you before you introduce yourself. And how will this be possible? Via employee engagement and thus having a motivated workforce. The diagram below could better show if your company would be ready to construct an Employee Branding Program.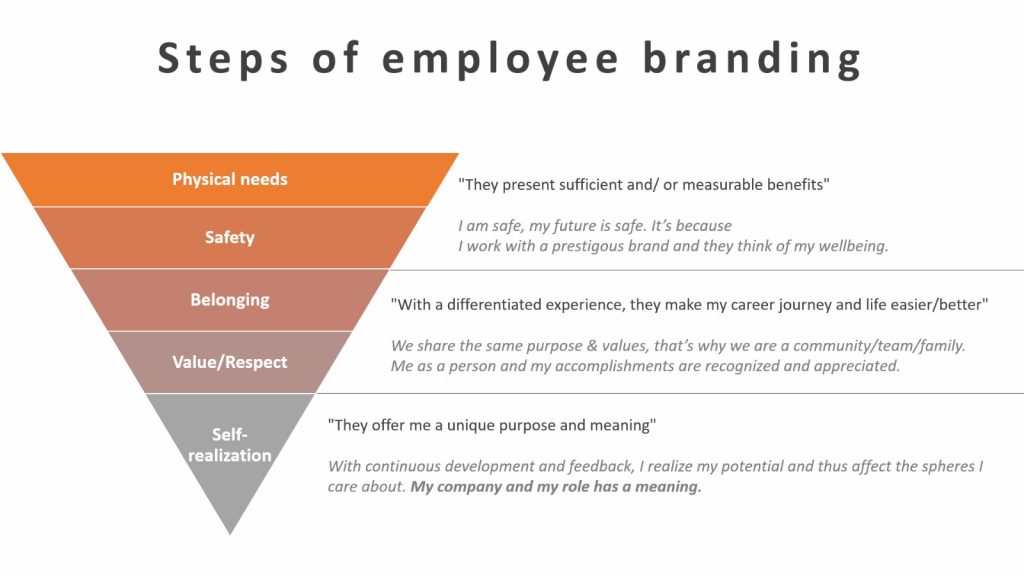 Constructing Employee Branding Programs
1- Start with leaders
Considering the case of corporate cultural transformation, change mostly begins top-down. It would be great to have the backing and blessing of especially the C-levels to accelerate the project. Presenting KPIs would help immensely, but determining KPIs includes survey/research, analysis, and strategy. If those are not possible due to budgetary or visionary reasons, you could divide the program into smaller, concurrent projects mentioned below.
As listed in the following items in this article, you will already have the fundamentals of a roadmap that you can work on with your agency. Look into the unique strengths both as an employer and a company: There is no specific science for your Program as the business cultures vary between industries, regions, departments or even teams! The wisest choice would be to commence a pilot with the teams who embody the brand personality of your company the best.
In the best scenario, all departments within the company would have employee branding representatives of their own -with the backing of their top managers. What better way than to start with the most influential people in the company? The bonus for your smart choice of setting off the program would be the social shares of the leaders. You could also start working with #7 in this list to generate buzz in the beginning stages as a teaser!
2- Ensure a safe environment
We are at the most crucial step. It would be almost impossible for employees to talk about their love of employers if they felt out of place within the culture. Unless we make sure that your environment is not toxic, we better deal more with our daily operational issues first. Disengaged, unmotivated, uninterested people would not be bragging about their companies. If you do not have the necessary resources for researching your Employer Net Promoter Score (ENPS), some indicators give us much insight. Here are some signs that your current culture might not be ready for employee branding:
High turnover
No work-life balance
Constant tension within and between teams
Ambiguous job definitions & responsibilities
Low rate of internal role advancement
Cliques within employees and gossip
Micromanagement of leaders
Distrust in leaders
No reflection time on past projects
Poor feedback culture
Lack of creativity
Constant meetings
Low attendance rates in internal events or training
Please bear in mind that the list above does not include all or definite symptoms of toxic work culture. Here are some quick ideas to combat the negative vibes within the company:
Make people feel safe right at the beginning with sufficient onboarding, orientation & relevant training
Bring forefront and communicate ethical principles, physical safety regulations, and corporate social responsibility activities in a more human-like manner
Have the leaders more visible & communicate transparently
Instil the trust in the abilities of employees
Provide sufficient physical, psychological functional support for work environments
Foster creativity and innovation with inclusive projects
Hold bi-monthly or quarterly Townhall meetings
Set up a modern performance management system for people to see their place in the bigger picture
Constantly communicate corporate purpose between the lines in internal communications
Perform regular check-ins with employees
Provide fair financial compensation!
Kickstart one-to-one development programs such as mentoring, reverse-mentoring or buddy system
Offer well-being opportunities such as apps or internal programs
Construct a platform for people to appreciate & recognize each other's successes
Embrace the real importance of Diversity & Equity; communicate both internally and externally
3- Consolidate communications
This is the second most important step: Applying the knowledge and expertise of "brand communications". If you are not familiar with marketing or advertising or branding, try to make the most out of your agency along the way. We have previously mentioned that EVP (Employee Value Proposition) provides a key reference point for employer brand management to establish the desired brand associations in the mind of the target audience through consistent communication and delivered experience. Why not bring all of the programs and projects listed within this article together under one simplified message? By this means, make all your efforts feed into the same value proposition to reserve a differentiated place in people's hearts and minds. Read on here and here for more detailed information!
4- Promote company values
We are not talking about the cliché corporate values that almost any company recites: Like being consumer-oriented, operational excellence, ethics, social responsibilities, etc. No one is getting fooled by these undifferentiated, marketing buzzwords unless they are felt and kept alive by the employees. Here are a few questions you might ask yourself, or the marketing or the corporate communication team:
What does the company stand for?
Do your visible leaders embody and represent your vision & mission?
Do you have branded and accessible reports of your activities?
Are you making good use of storytelling and a warm tone of voice in said communications?
5- Review candidate experience
We have always talked about the importance of having cohesive communication -because it makes us more believable. If everyone is talking about a specific attribute of a company, most probably what is being said is true. What we propose to our employees should also be felt in every step of the candidate's journey. Imagine your application experience that starts with vague and unprofessional job descriptions and processes including lots of redundant steps along the way, taking a huge amount of time… Would it be convincing to call yourself a "digital, agile, no-nonsense" employer? Moving along…
6- Stimulate employees
Most, if not all people strive to get employed to get by in their daily lives. Why not push people even more forward with measurable side benefits and reward systems? Inclusion programs such as value ambassadorship or culture transformation better at least have some both internal & external recognition! It's a real team if everybody wins.
7- Highlight social media
Every item in this list up until now had been about providing the foundations for this step… Better get together with your agency (employer brand and/or creative focused) to provide a cohesive brand image on the web, if you were successful in the previous steps. But why is this step so important? Let's say some of the employees are already willingly sharing how proud they are of their teammates. However, there is neither a mention of the company nor a brand identity element to be seen: A missed opportunity! With your agency, it is now time to catch that genie in a bottle. Create materials and hold events to guide how to use your master and employer brand in the digital world. If you start with your leaders (As we mentioned in #1) and do not overdo the branding, the employee branding will seem much more convincing.
Finally: Get continuous feedback!
Just like in any brand communication activities, we should always be testing and checking up on our activities for continuous improvement. Here are some methods to make use of while your communications still go on:
Using employee engagement or employee advocacy software: Great for increasing motivation through gamification, internal communication through creating & improving communities, or facilitating shares of branded content via media archives or design tool add-ins.
Monitoring 3rd party career sites: Reviews and testimonials of both ex-employees and ex-candidates bound to speak the truth.
Surveying employees: Be it branded and comprehensive annual research or pulse surveys through internal communication channels, even attendance rates themselves will give great ideas.
Social listening or brand perception tools: Look for the sentiment and hashtag analyses on various social media, either the big 5 or forums.
Internal events: Attendance rates or the number of employees willing to ask questions or partake in inclusive events will show how content they are as part of the company.
To summarize:
With a non-toxic work environment and after the backing of leaders, it will be a breeze to attract the most capable candidates best fit for your culture.
Consolidating all people-communications under the master employer brand strategy; including company values, candidate experience, and stimulating employee engagement, the only crucial element left would be communications and brand guidelines and templates for the employees.
Game on!
In the meantime, you can download my free ebook creating an authentic employer brand here or you can join a free week session of Employer Brand Academy certificate courses here.
—