Why Employer Branding Matters
10/10/2021
Posted by:

Ali Ayaz

Categories:

Employer Branding, Recruitment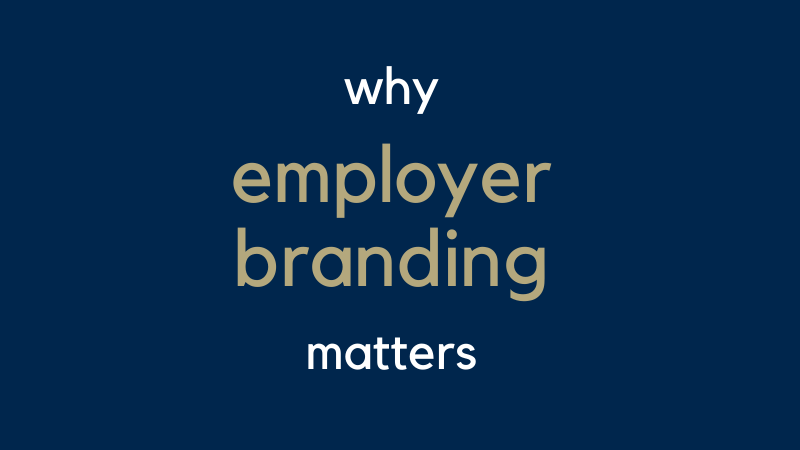 Can employer branding sometimes even be more important than corporate branding? Corporate branding is how the overall company looks to the rest of the world. When someone thinks of a cold beverage, they think of beautiful and the colours representing its branding and logo. They think of summer and delicious drinks, or if they are an investor, they think of Dividend Aristocrat. Again – great corporate branding.
When someone goes online and begins to search the internet with something along the lines of 'working at XX drink company", a different perspective is revealed. You can check employee review scores on the Indeed.com recruitment site. Of course, these are opinions stacked together over a long period of time, and sometimes they can be skewed for specific reasons or negative results, as can happen on these types of sites. That only means that employer branding is even more critical.
These corporate review sites continue to gather a lot of data, from indeed.com to Linkedin to the famous Glassdoor.com, which really tried working to show the insights for employees working at specific companies.  It also asked if current or former employees approve of the current CEO and would recommend it to their friends. This social aggregation that has come up with the dawn of social media can significantly impact whether someone decides to work at your company or not. That means there could be a huge loss of talent because highly qualified people with offers could potentially decline to work at a company simply due to too many reviews negatively reflecting on the candidate's core values.
What benefits do I have to improve my employer branding?
As your reputation grows, you will get better candidates who want to work for your company so that you can hire top-quality talent. Top talents perform 3.8 times better than the average.
You won't need to use external recruiters, and you will spend less on job boards that can significantly reduce recruitment costs.
Employees take a long time to acclimate. Very few new hires work their hardest and best right away. According to an article in Training Industry Quarterly, it takes at least 1 to 2 years before an employee is "fully productive".  A lot of potential value is lost after your previous employee has left. With a strong employer brand, you will be decreasing the turnover and related costs.
Retaining employees themselves will be easier since they already want to work there. It means that you can grow a very experienced and successful workforce that wants to stay there in the long term, growing your company value. It also turns your employees into promoters, and they themselves start to do the recruiting and advertising to work at your company, helping reduce costs even further. An employee referral also can turn out to be a better candidate due to the professional reference given.
The success of an organisation isn't only related to how its employees develop their talents but also to the employees' commitment to the company. Employee engagement is widely addressed in terms of employee turnover and the costs imposed on the organisation -as I did above, but the performance of the employees at work is just -if not more- as crucial for the company as employee turnover. There is a significant correlation between employee engagement and performance, which hugely impacts how the organisation performs.
What can be done to improve employer branding?
This is now the time for companies to start empowering their front liners in their workforce management and recruitment divisions with the right types of tools, education and authority. Just like the Corporate Communication team gets a huge budget and training to make the corporate brand look good, with consistent branding, messaging and ability to communicate externally via press releases, brand management and news articles, the same should be given to HR teams.
HR team have to wear many hats. They range from the recruiter to sales to therapist to a policy enforcer. It is a wide range of topics that needs to be covered. They can usually be overwhelmed to fill in recruitment quotas within a timeframe and employee salary budgets.
Educate the HR team for new skills
They need consistent education and training to show that their company wants to invest in their growth and be able to take the right course of action when it comes to recruiting aligned with the employer branding.
Where can I find employer branding courses?
We like to offer our expertise within this area that will help in remodelling your entire employer branding. We offer a way to integrate ideas and feedback from HR managers to Hiring Managers and help in having a new image for your employer branding. We tackle all the common problems that can occur during the recruitment process, as well as the most common issues employees can have (and complain about online).
We offer an excellent course Employer Brand Strategist programme that will help provide a step-by-step guide into getting this part under control and helping your company look suitable for that new workforce and start shifting some parts internally so that people will actually feel good working in this company well.
If you're not ready for our course, take a look at our eBook that covers this topic in depth. We let you know the importance of employer branding, the common pitfalls and issues that can hurt your branding, and the costs that can happen if change doesn't happen. We also help showcase all the benefits that can happen when you follow our course guidelines, as well as take a look at our employer brand strategy checklist. You might want to check our resourceful blog with great content.
When should I start?
Companies do not stop their recruitment process, meaning the longer you start to wait to shift your mindset and how you handle your employee relations, the worse it could possibly get. Also, if your branding starts to get worse, it will only take more time and resources to begin to reverse the process.
Remember that companies are run by the people that go there every day, and they can last for a long time because companies will always need to reinvent themselves for a new age, a new mindset or a completely different way of working. Do not hesitate in reaching out to us and begin this journey to start turning all that noise on the internet into a positive outcome for your company, your employer branding, and ultimately the employees themselves.
In the meantime, you can download my free ebook creating an authentic employer brand here or you can join a free week session of Employer Brand Academy certificate courses here.
—
If you like what you've read, please feel free to share this post on your preferred channels.
If you have a question or have had a similar experience, please leave a comment below so that fellow employer brand professionals can learn from your experiences.