AIDA model in employer branding
18/02/2021
Posted by:

Ali Ayaz

Categories:

Employer Branding, Recruitment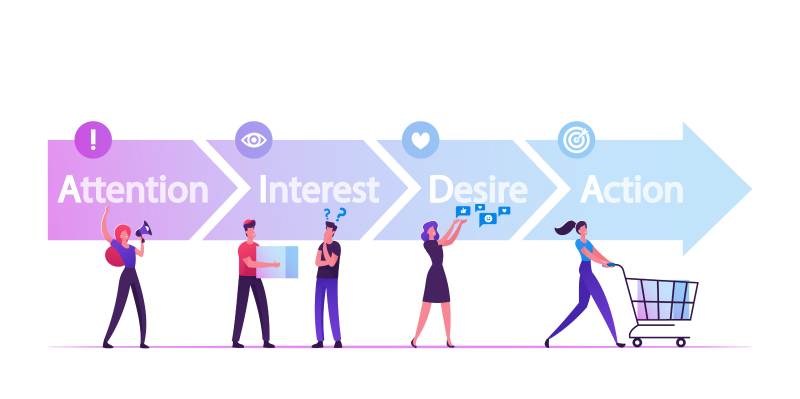 To convince your precious target audience to apply for a position in your company, you need to know about a model that describes their relationship stage with your company. Knowing that there are candidates at every step of this model at any given time, you will create relative content and ways of communication to establish a strong bond and to persuade them.
In my post last week, I mentioned that the two main elements of employer brand management are Candidates (awareness, action) and Employees (engagement, performance). Today, I would like to talk about a model that was developed in the 1890s to facilitate your work on candidates, which has been used for 130 years.
The name of the model is AIDA, an abbreviation FOR Attention / Awareness, Interest, Desire and Action.
Attention / Awareness: I know. (Draw attention, raise awareness)
Interest: I like (Give information, arouse interest)
Desire: I want (Create the desire to be preferred)
Action: I'm taking it (Convince for action)
The first step is to create attention and to get noticed. Although the "A" is originally referred to as attention or awareness, I always prefer to use it for "stand out", that is, to stand out from the crowd. It is usually relatively easy for well-established, multinational companies with well-known products to get attention as employers. Sometimes, they may need to draw attention to some of the departments, job families as well—for example, the marketing department of a bank or the IT department of a retailer.
The second step is to increase interest. Candidates may know the company for its products and services but may not be interested in working for the company. You need to put your company under their radar as an employer, mainly focusing on their needs while looking for a job.
The third step is to desire to work in your company. The keyword here is to "desire", not to think or to want. The emotional and functional value propositions of the (employer) brand come to the fore. The brand personality that the candidate will identify with and brand stories that will establish an emotional bond comes into play.
The last step is Action. In other words, if we look at it in terms of candidates, to make them apply.
It is important to be psychologically and physically accessible at this stage. There are two things to achieve this.
Call-to-action (such as showing the future of the position in job postings) and
Facilitating the application process (such as making mobile compatible, reducing application steps).
You can systematize your work for candidates from sourcing to the application by basing on these AIDA steps.

In the meantime, you can download my free ebook creating an authentic employer brand here or you can join a free week session of Employer Brand Academy certificate courses here.
—
If you like what you've read, please feel free to share this post on your preferred channels.
If you have a question or have had a similar experience, please leave a comment below so that fellow employer brand professionals can learn from your experiences.