Why do you need to define a candidate persona?
22/12/2021
Posted by:

Ali Ayaz

Categories:

Employer Branding, Recruitment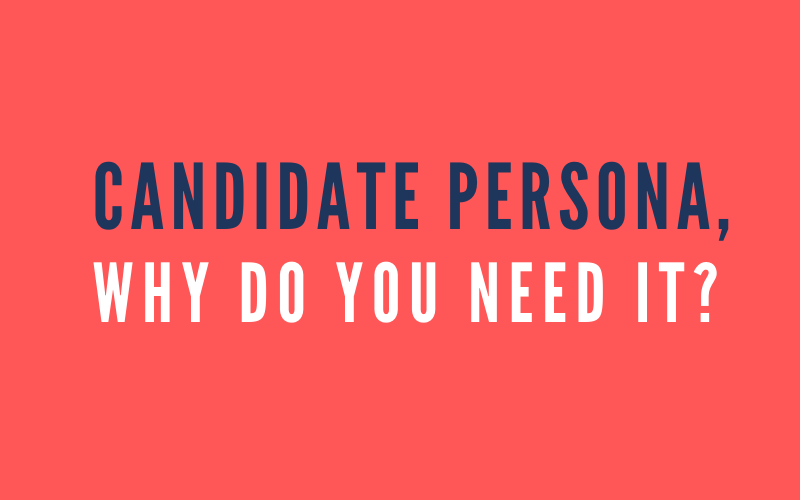 Everyone loves a good shortcut. Who wouldn't like to foresee the efficiency of their targeted content communications with a quick thought experience?
Before going into too much detail, we should see where we stand if we are about to start our employer brand communications via Candidate Persona:
You would like to improve your Employer Brand (company's value as an employer) via your EVP (Summary of total values you propose to people). This means you will be a part of Brand Communications (Employer Branding) to take you from your current situation and arrive you to the values you propose with your EVP. It only stands to reason that you will need a clear definition of who your target audience is to address their goals & challenges – your "brand" will be speaking to your audience with all the communications. You may refer to our 3.5-step employer brand strategy article for details.
The process of employer brand communication, i.e. employer branding, might get a little confusing with all the terms like employer brand values, brand personality, brand benefits, tone-of-voice, and more. To make it all easier, the process of "Persona Creation" comes into play. As in all kinds of brand communication, in addition to creating a "Brand Persona", a version of our target audience is also created: The "Candidate Persona", whose marketing counterpart is called "Buyer Persona". Now let's see what this process entails.
What is it?
A candidate persona is a semi-fictional representation of your ideal candidate. As it is not possible to foresee the behaviour of every individual candidate, a Persona is created as the average of demographic details, interests, traits. Giving them a name & adding a stock photo/illustration also helps make your semi-fictional representation seem more real!
You can see how this process makes it easier to imagine if your potential messages are able to touch the goals & challenges of the target audience. All in all, you will have created a model candidate. After getting into the mindset of the model candidate, it will be more efficient to crosscheck if your project, platform, message, tone-of-voice and more are the correct choices.
Like in all brand communication processes, Personas should be created with insights, rather than foresight, to be closer to reality and be more sustainable: Education, soft and/or technical skills, employment preferences, previous employees' history are the main sources of data for our construction. However, the estimation of a "model candidate" could be taken further with focus groups to observe true behaviour.
Once your main candidate persona is defined, more organic (High quality!) communication will come into place that will make the target audience feel your Employer Brand is tailor-made for them and enjoy a great candidate experience… Making you reach the main goal: Attract the right people for your company, resulting in higher employee satisfaction and thus less turnover.
Where is it used?
Anywhere and anytime your target audience experiences your brand, they should have been influenced by the creatives that were brought about via imagining the Candidate Persona, i.e. "model candidate":
Creating job descriptions
Designing external communication materials
Deciding on communication platforms
Assessment/Evaluation processes
Hiring durations
Rejection methods & messages
And much more!
In the meantime, you can download my free ebook creating an authentic employer brand here or you can join a free week session of Employer Brand Academy certificate courses here.
—